Wheelchairs can provide pets with the ability to move again on their own steam, delivering a huge emotional boost and greatly improving the quality of both their & their owner's lives.
"I wish I had done something sooner"
"I wish I had known about this option much earlier"
"I wish I had followed my gut and just went ahead with it"
These are just a few of the comments I've heard when fitting my client's pets into wheelchairs.
The enrichment of a pet's life
As a Veterinary Nurse with a special interest in animal behaviour and the human-animal bond, I started Pets Need A Life Too in the early 2000's. PNALT is dedicated to enrichment for household pets and in 2012 mobility aids, particularly wheelchairs, were included because of the fit with my general ethos.
As a dealer for HandicappedPets USA for over 8 years, I have fitted 100 plus animals with their own wheelchairs and have recognised that providing them with the ability to move again on their own steam provides them with a huge emotional boost.
The change in the demeanour of an animal when they realise they can move freely is palpable and I have often observed (and joined in!) with a client's tears of joy.
There have been occasions when the animal hasn't taken to the wheelchair at the first fitting but I've almost always heard back from the owners within a couple of weeks, often supported with either video or photo, and an ecstatic report about how wonderful it is to see their pet so happy.
At this point, you may be wondering why I keep saying "animal" or "pet" rather than "dog" but this is because I have fitted not only dogs, but also cats and even sheep. In the USA HandicappedPets USA have also fitted ducks, chickens, goats, horses, and cattle.
The challenges of non-communicative patients
Some years ago, I attended a CVE Veterinary Behaviour Conference in Sydney where convenor, Dr Kersti Seksel made a conscious decision to invite other Medical and Veterinary professionals to speak about their specialties from a behavioural viewpoint. All presentations were quite illuminating, and I was fascinated by the ophthalmologist's statement that Rottweilers and German Shepherds had a breed predisposition to short sightedness – which kind of explains a lot when it comes to those two breeds.
One of the speakers was a Human Paediatric Specialist who spoke from the perspective that both the human and the veterinary field are remarkably similar as both disciplines are dealing with non-communicative patients!
Our patients cannot verbalise their ailments to us and we can only be guided by observations from both the clients and ourselves, coupled with what we believe we know. This of course, can prove to be limiting, as the animals we serve haven't read the textbooks and don't necessarily present the way we think they should. It's a good reminder that we always need to keep an open mind.
The importance of keeping an open mind
There a many examples of the importance of keeping an open mind – particularly when we're trying to help patients who are not able to communicate with us verbally.
A good example is a story I read about a German Shepherd that had found its way into a shelter and as no one had been able to approach, it was labelled as aggressive and flagged for euthanasia – even before any type of veterinary examination had taken place. One man decided to try to give the dog a chance, managing to convince the shelter to allow him to take the dog home with him. Noticing the dog was lame, he took it straight to the vet where X-rays showed the dog not only had a bullet lodged in its leg, but the leg was also fractured.
It's so important to remember to look past our own preconceptions and to consider every case individually. On several occasions, I've heard directly from pet owners that a veterinary professional has labelled their pet as being "stubborn" or "lazy" when it was showing a reluctance to uses limbs post-surgery or from trauma. However, the reality is that we cannot know this as a fact, and the animal may be in pain. Or alternatively, it may be suffering from a psychological reaction from the trauma it has just experienced.
Let's think for a moment of the cat that has had a urethral irritation during urination. Owners will often report that their cat has developed a litter tray aversion on recovery and this is thought to be because they have associated the litter tray with the pain that they had previously encountered when last using the tray. It would be feasible then to consider that an animal that experiences a trauma that renders them unable to move, and therefore becomes totally reliant on their owner, may perhaps exhibit a psychological rection to that trauma.
Past resistance to wheelchairs post-surgery
When I first started working with wheelchairs, I encountered some resistance to using them to assist in post-surgery rehabilitation. Understandably, surgeons were concerned that the wheelchair could potentially cause intrusion with their surgery. However, now many specialist surgeons are recognising the benefit of wheelchairs for rehabilitation purposes and assisting in getting their patient on the mend, aiding in a much quicker recovery rate.
Inability to walk is no longer an end-of-life crisis
For years, people watched helplessly as their beloved four-legged family members lost their ability to walk due to aging, injury, or disease. No longer able to get exercise or toilet, our best friends suffered as their world became smaller and smaller.
Finally, in 2001 Walkin' Pets introduced the only fully adjustible Walkin' Wheels Dog and Pet Wheelchair to the market, with the claim of "Makin' Life Easier" and offering push button adjustability in height, length, and width.
Since 2001, the Walkin' Wheels Wheelchair has helped thousands of pets live a happy active life and this is evidenced by the 85,966 pets that you can read about and watch in the testimonials and videos available on the handicapped pets website; running, playing, exploring, skiing, and getting life-giving exercise. As a company, Walkin' Pets is committed to helping our best furry friend stay safe, happy and always on the go and even better, their wheelchairs are Veterinarian Approved!
Wheelchairs can help pets suffering from so many mobility issues
Walkin' Wheels Wheelchairs are veterinary approved to help your patients or pets suffering from any of these hip and/or leg problems:
Any difficulty walking, for any reason
Hind end weakness
Degenerative myelopathy (DM)
Hip dysplasia
Arthritis
Paralysis
Cancer
Slipped disc
Spinal and neurological problems
Intervertebral disc disease (IVDD)
Surgical recovery
Congenital abnormalities
Injury
The big question: when is the best time to consider a wheelchair for a pet?
Often the biggest problem for owners and their pet health providers is making the decision as to when is the best time to consider a wheelchair.
For me, it was an easy decision after coming home one day to find my 10year old Rottweiler stumbling around due to weakness in his hindquarters. A range of diagnostics at my local referral centre confirmed he had spinal degeneration so there was nothing I could do other than manage his pain for arthritis and nerve damage.
Cole had always been an active dog, and missed going on walks so getting something to assist him was a no brainer for me. But for others it is not so easy a decision.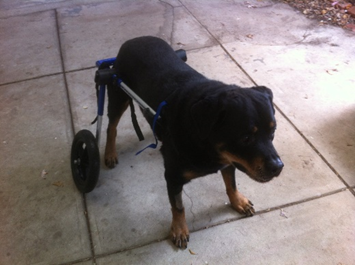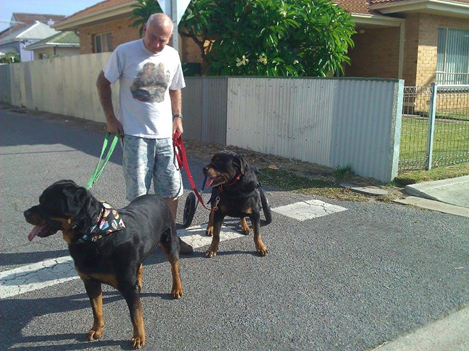 1. Cole on his first fitting and 2. Cole (ar rear) on a walk with his brither Chevy
Like many things in life – sooner is usually better than later
So many of my clients have exclaimed they wished they had made the decision much earlier.
If an animal is keen to walk but just cannot make the distance anymore, then this can be a great time to consider introducing a wheelchair. It can then be utilised for walks providing full support by removing weight from painful joints but still allowing the pet to use all muscle groups and maintain muscle tone.
We all know the importance of maintaining movement through exercise and the fully adjustable Walkin' Wheels Wheelchair helps keep a pet's mobility for much longer.
Testimonials from pet owners says it all
Milo's Story:
"I've included a pic of Milo in her wheelchair. Unfortunately, we only got a couple of weeks use out of it. A previous vet had told us well over a year ago not to attempt a wheelchair with Milo as she was too anxious of a dog to tolerate it. Turns out she was wrong, Milo had absolutely no issues being put in her wheelchair even the first time. I wish I had trusted my gut and got her one way sooner than I did, even in these final weeks I could see what a difference it could make to her physical and mental health. This is a friendly reminder to you all to trust your instincts on such things, no one knows your individual dog as well as you do. If you can afford to take a gamble without risking any hurt to anyone, do it "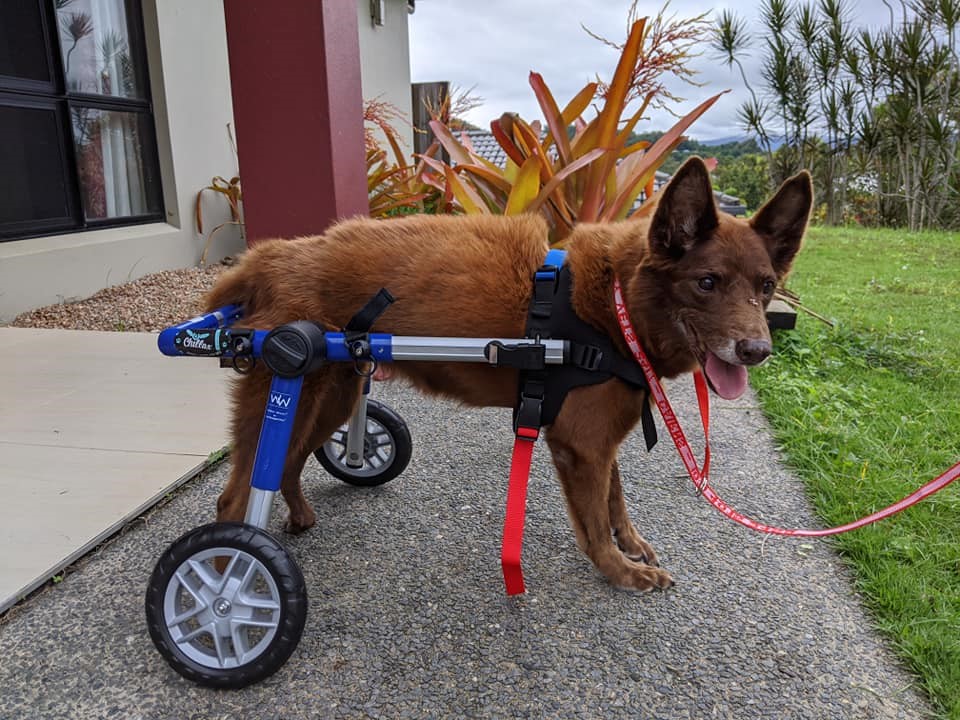 Milo in her wheelchair
Ciacca's story:
"After another 2 month cage confinement for a back injury. My little man needed some help . I am in Queensland and rang several other wheelchairs/cart suppliers. They all wanted both a referral from the vet and to do a rehab program which is very difficult when they are 250-2000km away!
I researched extensively during the two months of confinement and after discussions with the vet, knew the product would enhance the quality of my pet's life. Pets Need A Life Too were the only one a five suppliers I rang in four states who supplied the product without any issues. (The wheelchair) .. gave the extra support needed to assist in recovery and regain muscle allowing him to walk. And should he have any more issues this product will enable him the freedom to move unaided. Thank you very much Gillian
As a foster care for several rescue groups and an active member of many dachshund groups I often recommend your website
He no longer needs the cart now but we have it just in case. The vest was the best extra ever he loved it and there was no rubbing at all when he is in the cart – Best money ever spent . Please keep supplying this product and vest it is the best on market worldwide!"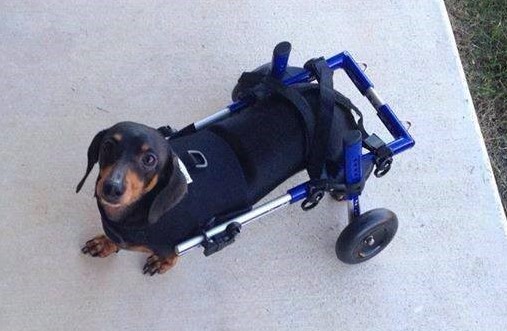 Ciacca in his wheelchair
I recently fitted a full quad cart to a lovely German Shepherd who not only had degenerative myelopathy but also a twist in her spine which made fitting of the wheelchair quite difficult as she had a lean to one side.
Her owner always knew she would develop mobility issues as she aged but thought he would be able to cope with them as they progressed. He commented that he wished he had known about the wheelchair option much earlier so he could have started her in the rear wheelchair at first and then added on the front extension as her mobility became more impaired.
This is a great example of just how adjustable the Walkin' Wheels Wheelchair is as owners can start with a rear wheelchair only, allowing the animal to still walk on its own steam using all four legs. The camber can then be adjusted if the pet's rear legs deteriorate and as time goes on and the animal needs more support, the front attachment can be added.
Other custom wheelchairs require many complicated measurements and then the cart is fixed with no room for adjustments which is another reason why I decided to support the Walkin' Wheels Wheelchair as it only requires a few very simple measurements and is then fully adjustable to the needs of the animal as it progresses or regresses.
Case studies & success stories
Mental Health benefits
One of the most important benefits of the wheelchair is the improvement to an animal's mental health. I can't tell you how many times I've seen owners cry with happiness after they see the change in their pets demeanour when they realise they can walk, run and play on their own again!
One of my wheelchairs was for a gorgeous Cocker Spaniel, Henry, who unfortunately succumbed to acute idiopathic polyradiculoneuritis (also known as Coonhound Paralysis)
I have fitted several patients with this disease since and they all have the same wish to get moving on their own steam. Henry was paralysed except for his waging tail and he could lift his head to bark and eat. His owner wanted him to be able to go outside in a standing position and to feel the sun on his back again, so she rented a full quad cart for six weeks. Henry was able to feel the sun on his back for a few weeks until his owner reconciled herself that his time had come and he was euthanised.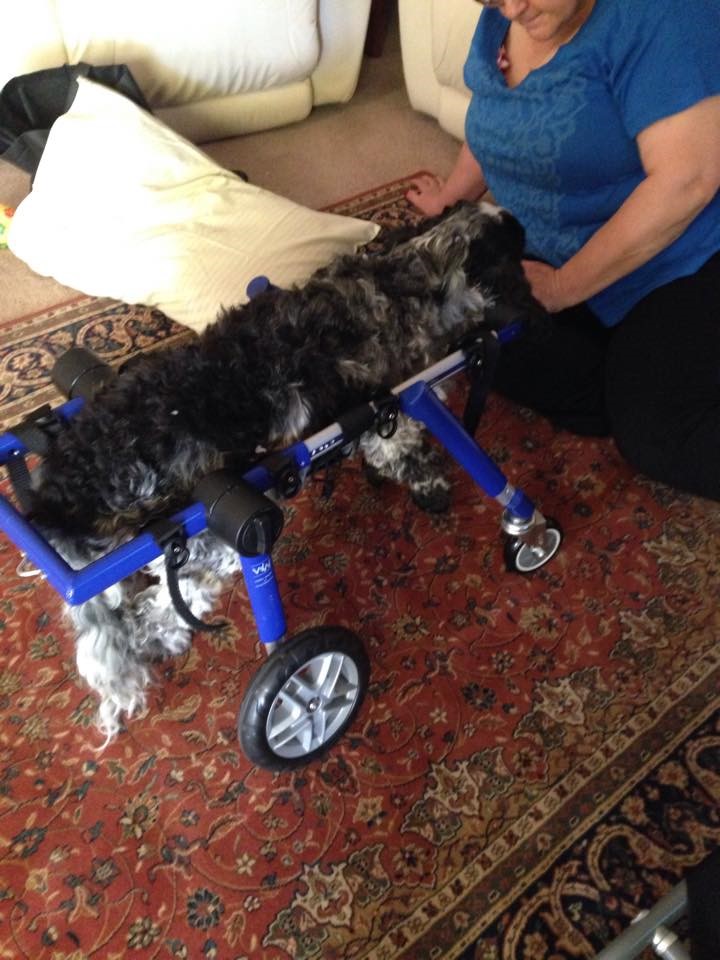 Henry in his cart
Improved quality of life
Pat was a border collie with some sort of cerebellar ataxia, who had not walked for 2 years. Initially his owners thought a rear wheelchair would work as he had only been able to drag himself around, however, on arrival for the fitting I quickly realised he would need a full support quad cart. We returned the next day and were able to get him to walk slowly to the local park. His owners were in a flood of tears to see Pat walk for the first time in 2 years.
A local Veterinarian's client had a boxer with a condition called DISH, which is apparently quite common in boxers in particular. As this dog had not been able to move about on her own for a couple of months, I advised the owner to take the first few times slowly as her dog was likely to experience patient fatigue due to her inactivity. The next day I was told that they had taken her and her sibling dogs to the park where she then proceeded to run around like a lunatic for 2 solid hours. The owners said they had not been able to stop her as she was so ecstatic to be able to run around again unassisted.
Success stories in images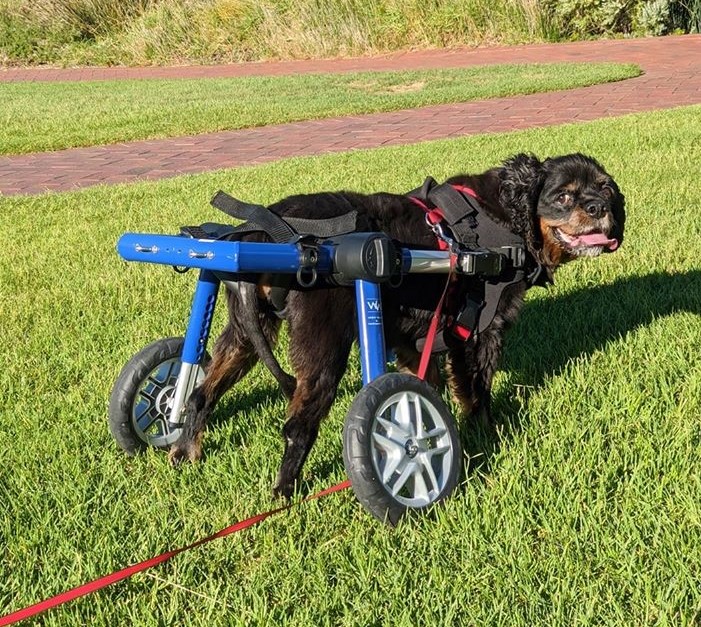 Kobie – Spinal Degeneration, he is a favourite in his local neighbourhood on his daily walks.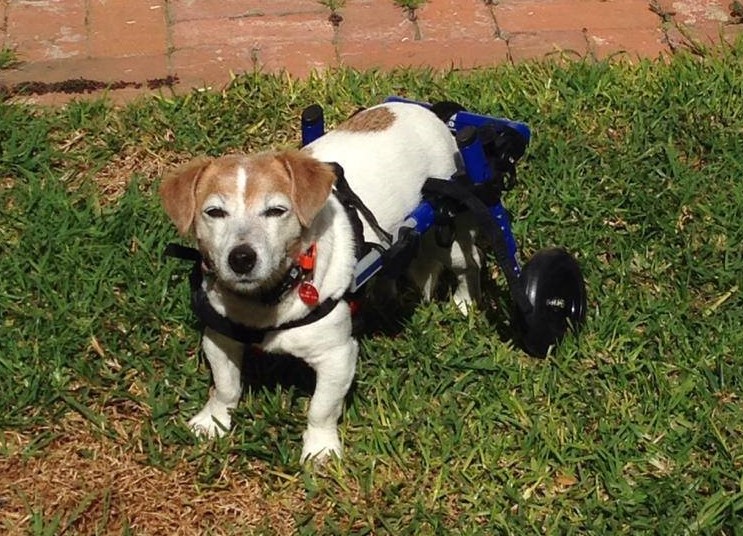 Poppy – spinal degeneration. She immediately ran of exploring in my backyard on her fitting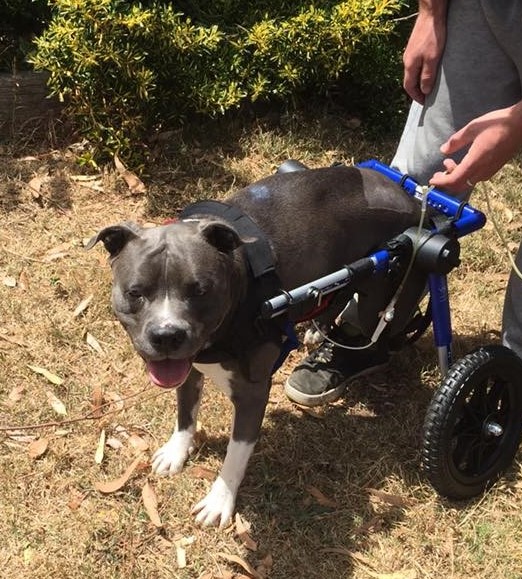 Diesel – FCE (Fibrocartilaginous embolism)
This is Diesal, two weeks after his incident at the first fitting and still with his catheters in place. Two weeks later the owner sent me a video of him flying through the park in his wheelchair, and she was unable to keep up with him.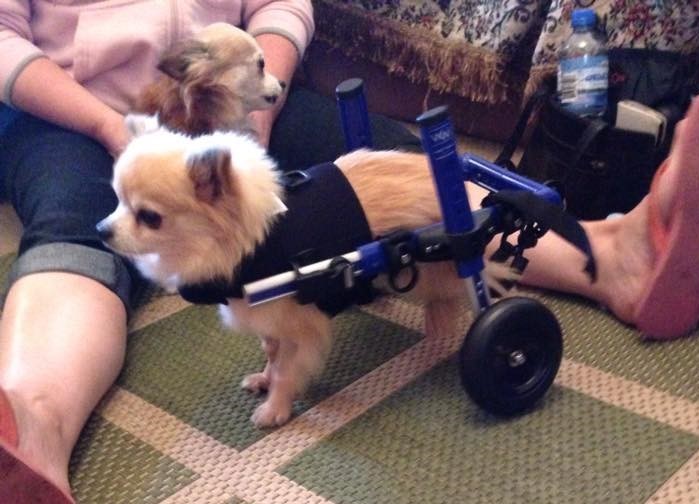 This little Chihuahua was fitted for support due to poor patellas. Since this particular fitting HandicappedPets have released a lighter version for mini critters like this one, and I have used them for a couple of cats as well as another, much smaller, chihuahua (which was also for support due to luxating patellas).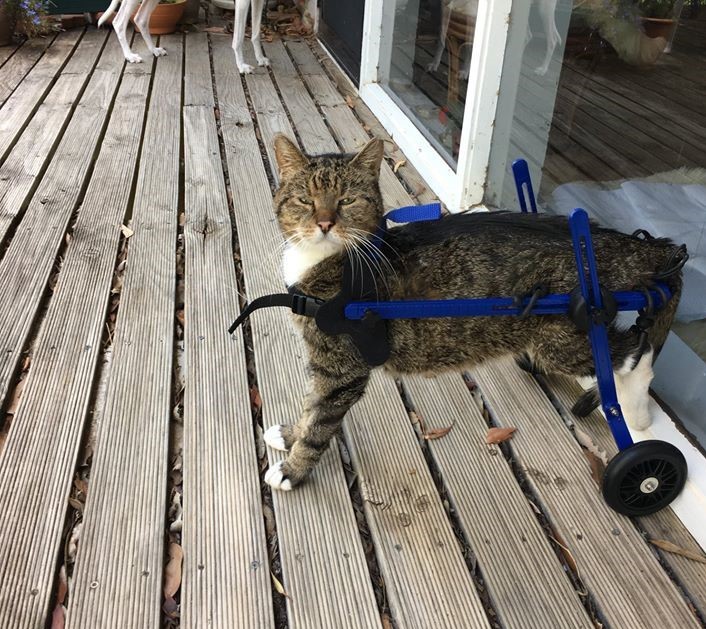 Jimmy James modelling the newer mini version of the Walkin Wheels Wheelchair – I love the look on his face! He had spinal degeneration that had made walking difficult for him.
He was the third cat in the same number of weeks I fitted in a wheelchair. Bronson, a Birman also with spinal degeneration, goes for walks in his wheelchair to the local park. Evie was a young kitten at a rescue that had severe hid limb deformities and they used the wheelchair to help her with rehabilitation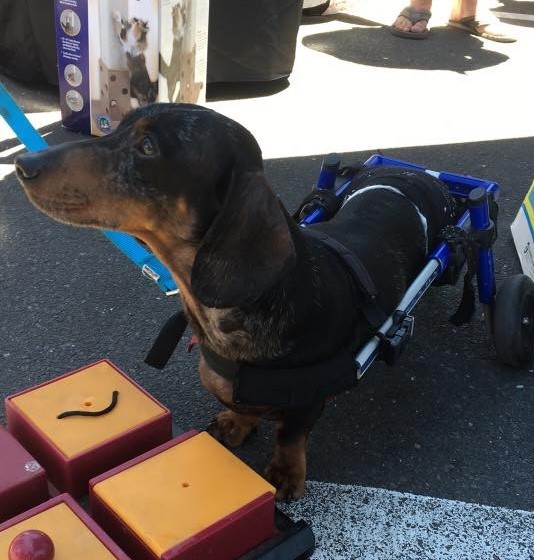 Bruce here is permanently in a wheelchair but that doesn't stop him from loving life. When I first put him in his wheelchair, he immediately ran off after my cat. His owner sent me a video of Bruce running around playing with an Aussie Dog Staffy Ball. He'd stolen it from a staffy friend and was having a great time and moving way too fast for his Staffy friend to catch him!
Many of my Dachy clients tell me they use the wheelchair in times of crisis and put then put it away until needed the next time.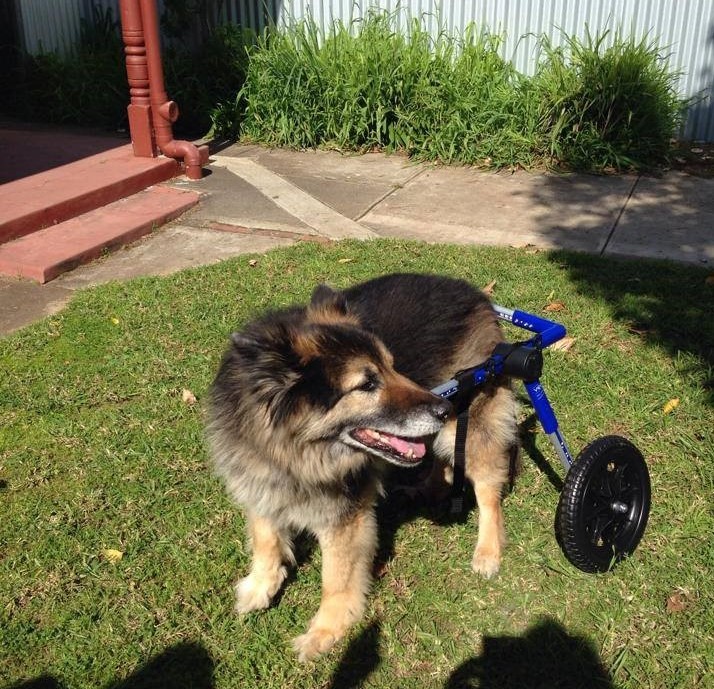 Understandably I have many German Shepherd patients – this one of Lily, with Spinal Degeneration.
One of my German shepherd clients called me one day, wanting to know about warranty as the wheelchair was coming apart. We discovered that after taking his dog for a walk on the bitumen road every single day for 6 months, some of the nuts had loosened on struts but it was a quick fix. The fitting had not been an easy one as the dog was not particularly friendly, but his owner was devoted and he was truly ecstatic that his dog was able to go for walks again.
How can I help?
If you think one of your patients might benefit from a Walkin' Wheels Wheelchair I would be more than happy to have a chat with your or your clients to discuss their needs. Or if you would like me to send you more information about how a wheelchair could improve the life of your patients (and their owners!) I would be happy to send you some. Alternatively, you can visit the Pets Need A Life Too website to find out more information.

About Gillian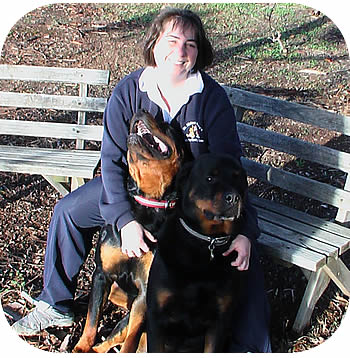 Gillian Shippen is the Director and owner of 'Pets Need A LIfe Too, a website that advises on and sells a wide range of environmental enrichment toys for animals including dogs, cats, birds, rabbits and horses as well as wheelchairs for dogs. She has spoken at conferences on the importance on environmental enrichment for all animals and has also written a book: 'Pets Need a Life Too – A Guide to Enriching the Life of Your Pet – Series One: Dogs'.
Click here to follow Pets Need A Life Too on Facebook
Email Gillian to discuss enrichment needs for your pet: [email protected]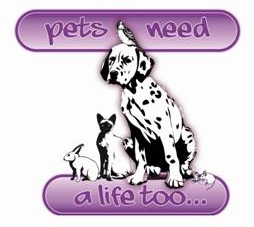 Click here to visit: Pet's Need A Life Too! Page in the Vetanswers Business Directory