Today we had a visit from Nakita and Toby…
Nakita has had both of her eyes removed due to glaucoma and her owner looked around for something to give her more confidence when she is walking around as she tends to bump into things.
Nakita was happy for me to pop the Blind Dog Halo on her and she took to it well.
She will take a little longer to realise that she will no longer bump into things and for her to gain confidence but her initial reaction was very positive.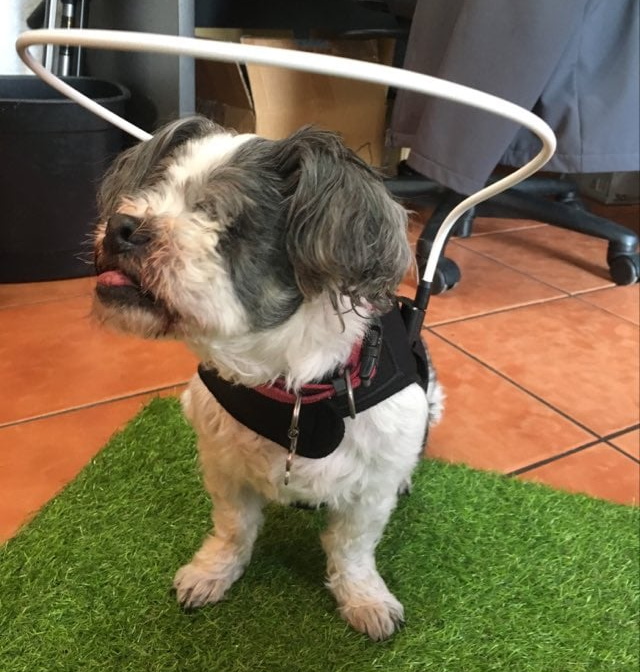 What is the Blind Dog Halo?
The Blind Dog Halo helps pets with vision loss to safely navigate the space around them. A lightweight, flexible halo for blind dogs comes attached to a comfortable harness/vest. It teaches your blind dog to be more independent as it warns your pet of nearby obstacles, instead of bumping into the wall or tripping over furniture. The halo provides a barrier between your dog and the object, safely guiding your pet around the house. It builds confidence while allowing your dog to participate in normal activities.
The benefits of the Blind Dog Halo
There are many reasons why a dog might lose their vision, for example, glaucoma, cataract, retinal diseases (such as SARDS), and vision loss due to diabetes or trauma. Some breeds are more prone than others to develop cataracts: Boston Terrier, Cocker Spaniel, Golden Retriever, Maltese, Old English Sheepdog, Poodle, Samoyed, Schnauzer, Siberian Husky, Yorkshire Terrier. Whereas glaucoma is more prevalent in Bouvier des Flandres, Shih Tzus, and Siberian Huskies.
If the vision loss is permanent, a device such as a Blind Dog Halo can help a dog overcome some of the fear associated with bumping his/her head into unseen objects, furniture, or walls.
Some of the benefits of using the Blind Dog Halo include:
Builds Confidence in Blind Pets
Allows pets with poor vision to safely map their surroundings.
Halo is lightweight and flexible.
Halo comes attached to a harness or vest, depending on the dog's size.
Allows dog to navigate spaces without bumping head.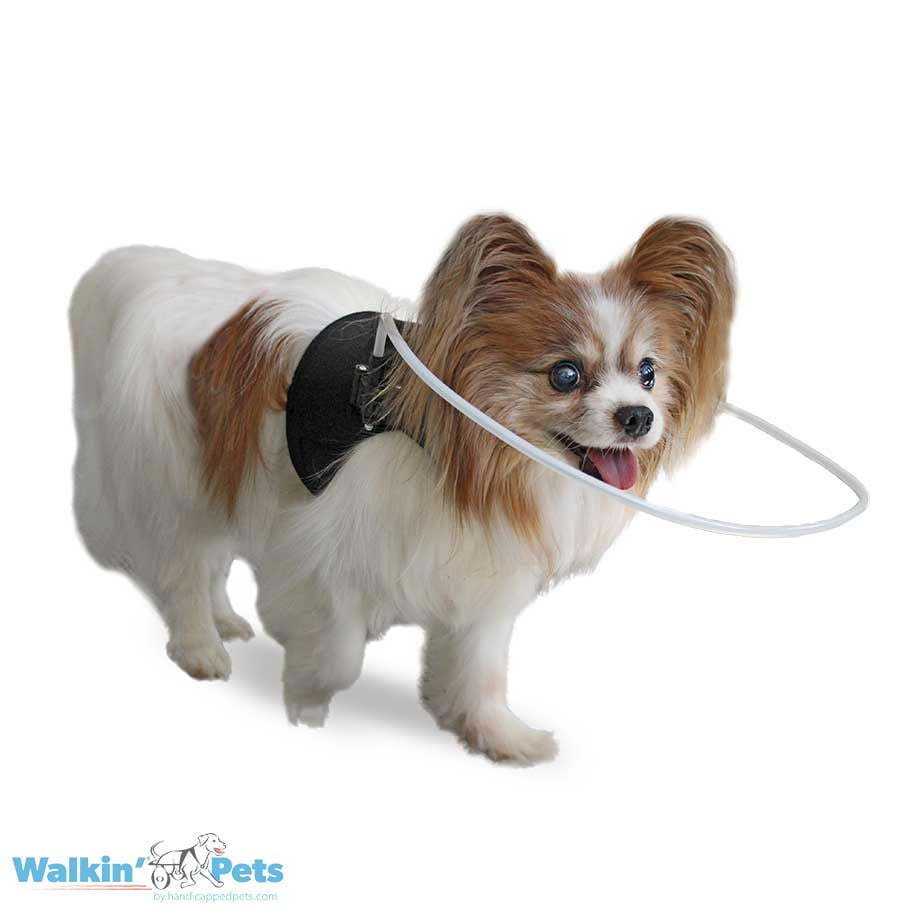 How the Blind Dog Halo works:
The Blind Dog Halo bumps into things before the dog does! This helps to restore a visually impaired dog's sense of confidence and security. Depending on the dog's size, the Blind Dog Halo comes attached to a comfortable harness or vest.
How to introduce the Halo to a pet:
The best way to introduce a Halo to a pet is to take it slow to avoid startling the pet. Blind pets rely heavily on their other senses and it may take a pet time to adjust to something new, so it helps to introduce the harness by itself, before attaching the Halo. Help make wearing the halo a positive experience by using lots of praise and treats.
And YES the Blind Dog Halo is also suitable for cats!
Click here to visit the HandicappedPets Australia website to find out more
Or ask Gillian any questions you may have in the Comments section below.